It was just one of those days, I was scrolling through Twitter, and I chanced upon one of Emma's retweet – introducing me to Stranger London. What caught my eye at first was THIS picture (c/o Stranger London):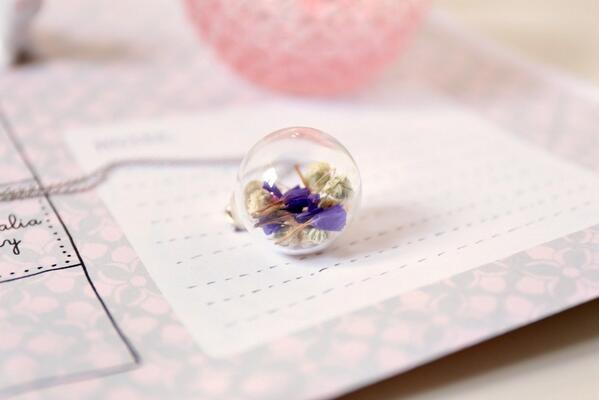 It was definitely love at first sight. <3
Composed of dried forget-me-nots, daisies and baby's breath enclosed in a crystal clear glass bubble and linked on a silver sterling chain. I absolutely adore the idea. According to Yasumi, it was inspired by Victorian botanical illustrations and old books with flowers pressed within their pages. Indeed, it is the epitome of vintage + Victorian.
I contemplated for a good 6 days before finally making the ultimate decision of buying it! It was actually only then that I realized that it's a one-piece only edition and once sold, bye bye! I jumped at that and well hello there, necklace! YOU ARE MINE, RAWR! 😀
Patiently, I waited for its arrival and finally on Saturday, look what turned up!
By the way, I love your handwriting, Yasumi!
Look at this beauty! Yasumi from Stranger London (& also from WorshipBlues) so kindly included a pretty pen and a lovely handwritten note. I was literally hopping with glee! Now I will be carrying with me not simply just a little bubble of lovely flowers, but a bubble filled with whispers of wishes and secrets, of dreams and of broken promises. My whimsical little secret.
I am definitely sold and if you guys haven't heard of Stranger London yet (you mean to say you haven't yet clicked on her link the minute I started raving about her 10 minutes ago???), I URGE that you do so! Now!
I must admit, I fell in love with Stranger London the minute I browsed the whole collection. Handmade with love and limited editions only, what is there not to love about the rarity of her vintage designs and ideas? Not forgetting, each piece has its own story!
I will most certainly be keeping my eyes out for new items! It seems like I am not the only one, because just last week Emma from Bloomzy posted up her review on Stranger London's handmade coasters! Read it here.
And if you missed out my last post, do check it out – it was totally inspired by Yasumi's post here on WorshipBlues!
Toodles, for now! ♥